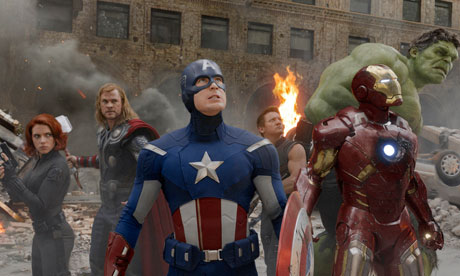 With
the Dark Shadows
opening this week at an approximate 3,700 places,
The Avengers
should be drastically affected considering the fact that such films suffer a steep drop the following week. However, the superhero tentpole still has enough firepower in it to stay in the #1 seat with a predicted $90+ million. The Avengers should break the record of biggest-second weekend gross and surpass Avatar's $75.6 million over its second weekend.
Breaking records each day,
The Avengers
also boasts a powerful A+ Cinema Score and 96% on Flixer ratings. Not only is the word of mouth good among fans, but also among critics who are lauding Mark Ruffalo's depictive acting techniques. Standing as the 32nd highest-grossing film of all time in only 17 days with $803.3 million, the ensemble movie will most certainly pass the $1 billion dollar threshold. Currently, The Avengers accounts for 84% of daily sales portending a really good hold-up for this week.
Expect the Avengers to shatter everything again with a second-weekend gross of $105.8 million, a drop of 49.1%.
The Dark Shadows will suffer
The Avengers'
"smashing" power, and open to a decent $32 million.